After 8 long, hard years of looking for infertile treatments and 3 times doing IVF, the happy ending finally came to the family of Mr. Nguyen Van Vuong (1980) and Mrs. Le Thi Ha (1983) with a wonderful gift of a sweet little angel.
Luckiness isn't for all– this is probably the most accurate way to describe the current situation where the percentage of infertile families is getting higher. Even though pregnancy and birthing are a priceless gift of natural creation, not every woman can easily achieve motherhood. Some people spend all their youth "seeking for" a baby; some still haven't become a mother till the age of 40-50. The story below is about the journey "searching for" baby of Mrs. Le Thi Ha. It is heartwarming journey and truly a sacred symbol for every woman's desire to become a mother. However hard and difficult the journey, with enough patience and belief, a baby will eventually come to all families.
Her journey of finding baby lasted for 8 long years with diverse emotions. At one point, she was so depressed that she was in need of antidepressants. It seemed incurable but luck finally found her when she and her family welcomed a new member at the end of 2017 with utter joy and happiness.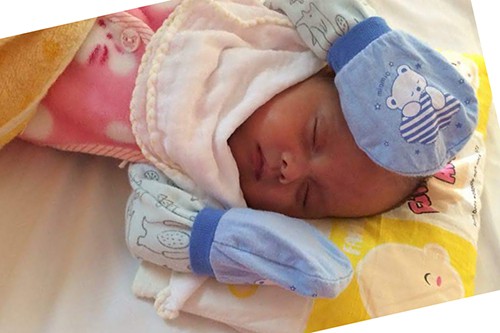 8 years finding a baby in tears
Mrs. Ha got married at the age of 27 when she was mature enough to care for her own family and was mentally steady to become a mother. The couple expected their love would create a docile, cute baby. But after all the waiting, the baby seemed to never come.
The pressure from family and relatives, together with constant questions of people around: "How many children do you have? Are you still on the pills? Give us a baby to love and to hold" terrified her every time she walked out the door. Every word hurt like a sharp knife, she tormented herself for not being able to bring complete happiness to her husband. Depression struck as an inevitable consequence of the numerous questions, concerns.
With the encouragement of her husband and the family, she went to assisted reproductive centers for IVF. The first time then the second time, from clinics to hospitals, but still no baby came to her family. The pain from ovarian stimulation for IVF was nothing compared to the sadness and despair that she was quietly suffering every day.
By chance she was introduced by a friend to Dr. Ivan Reich, who had 40 years of experience in infertility treatments. Yet she was indifferent because she still had much doubt. This time, her husband encouraged: "We are still very young. It wouldn't hurt to try one more time". The couple had an appointment with Dr. Reich to have an examination in 2016. The doctor concluded that Mrs. Ha had level 1 infertility, showing signs of early ovarian failure, but still capable of pregnancy and having a baby.
With supporting words and hope, Mrs. Ha and her husband put their full faith in Dr. Reich and followed the treatment regimen. Encouraged by the doctor and the family, the couple revived their spirits, maintaining the belief that "the baby will come".
Utter happiness with a baby in life
After 3 months of consecutive treatment and 2 times transferring embryos, Mrs. Ha was pregnant. She recalled emotionally: "The day the doctor announced that I was pregnant was the happiest day of my life, I felt like all my expectations and wishes comed true, I need nothing more."
However, the process of Mrs. Ha's pregnancy was quite hard when there were constantly signs of likely miscarriage due to abdominal pain and heavy vaginal bleeding right from the first 3 months of pregnancy. The situation became especially severe in the 4th month when she had fevers, increasing white blood cells, pelvic abdominal pain and signs of uterine infection. She encouraged herself, "My dear baby, let's try our best to get through this".
The sacred bond between her and her baby seemed to work, after 3 days of maternal health treatment, the baby persisted in the womb and their health situation became more and more stable.
The due date was approaching, yet there were more signs of preterm birth, including abdominal pain and uterine contractions. But thanks to good medicine and Dr. Ivan Reich's encouragement, Nguyen Le Minh was born on October 24th 2017, as a miracle for Mr. Vuong and Mrs. Ha's family.
The baby is now chubby, adorable and clever. "All the trying, sorrow and tiredness finally paid off. I know the journey searching for a baby is incredibly hard and long and there are lots of people out there whom luck hasn't yet found but as long as they have faith, happiness is waiting at the end" said Mrs. Ha.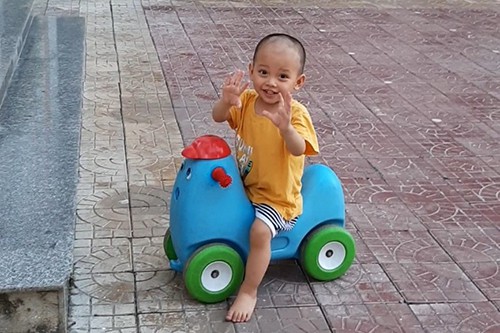 The 8-year journey to find a child full of challenges, resilience and patience paid off in the end. On the other side is a happy, warm house filled with the child's laughter.
For more information, please contact:
Hong Ngoc IVF Center – Hong Ngoc General Hospital
Add: 14th floor, 55 Yen Ninh Str, Ba Dinh Dist, Hanoi
Hotline: 0915.960.139 – 0915.330.016
Tel: +(84-24) 3927 5568 ext 6820/6825
Email: arthongngoc@hongngochospital.vn