On September 21st, Hong Ngoc IVF Center successfully hosted Consultation Conference on Optimizing the expense of infertility treatment for young couples. Attending the event, couples were offered 100% free examination, ultrasound and semen analysis. Especially, each couple who registers for IVF at the center will receive a promotion up to 30 million VND.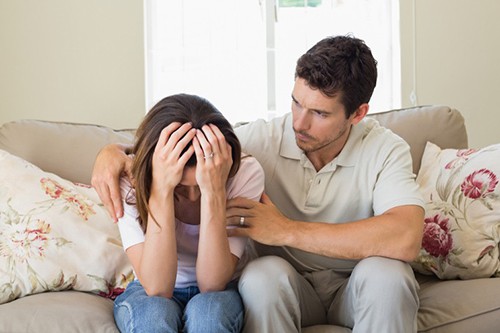 Infertility percentage is getting higher among young couples
According to World Health Organization (WHO), infertility is the third alarming disease (behind cancer and heart diseases) in the 21st century, and the average percentage in the world is 6% – 12%. It is also stated that infertility rate among young couples of reproductive age is tending to increase and become more and more common in young people.
Apart from pathological causes, bad habits in modern life also directly affect reproductive health, such as the use of stimulants (alcohol, tobacco); working under pressure or prolonged stress environment; stay up late; eat foods that contain chemicals, grease, etc.
Besides, many researches have shown that electromagnetic waves from technology appliances like cellphones, computers can lead to infertility in men.
According to infertility experts, married couples who have unprotected, regular sexual intercourse and still can't conceive should have a reproduction health check-up to find out the causes. In case of infertility diagnosis, patients will be consulted with proper infertility treatment so they can soon experience the joy of being parents.
Treatment costs – the burden on the journey "looking for a baby" of infertile couples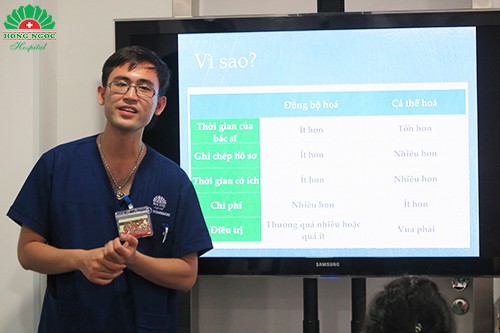 The expense of an IVF treatment is about 75-90 million VND, including the costs of ovarian stimulation, embryos incubation, screening and cryopreservation. However, from the beginning of the examination to successful embryos transfer, there will be various expenses such as traveling costs and hospitalization expense, etc. On top of that, before doing IVF, you have to reschedule your working time.
This cost may increase or decrease depending on the case of disease requiring either complex or simple treatment, long or short treatment period, etc. There are cases where the cost can be up to nearly 200 million VND due to aging, difficult embryos transfer, etc.
This could be a huge amount of money for some families, especially those who are young and haven't had much in savings.
At the Consultation Conference on Optimizing the expense of infertility treatment for young couples, Dr. Nguyen Binh Duong of Hong Ngoc IVF Center shared useful information on the cost of IVF for patients.
With the hope to help couples unburden the expense problem on their journey looking for a baby, Hong Ngoc IVF Center has always focused on minimizing the costs for patients, helping them access the most advanced infertility treatment methods with reasonable prices.
At Hong Ngoc IVF Center, we optimize treatments by:
– Individualize treatment regimens for patients to save costs and increase success rates for IVF cases.
– Only indicate necessary examinations to minimize costs for patients.
– IVF will not be performed if hormonal treatment, IUI and other treatments still ensure success rates.
– Implement classical IVF along with ICSI to save costs for young patients.
– Apply IVF with natural menstrual cycles without using drugs, which provides the same success rate as the drug regimen for mucosal preparation, with high efficiency.
– Incubated embryos to the 5th day to increase the ability of screening and selecting embryos, helping to shorten treatment and expecting time for patients, thereby saving costs.
– Transfer a small number of embryos to reduce obstetric complications, increasing the likelihood of a healthy baby at no additional cost.
– Clearly provide information for convenient reservation, appointment, and following medical history which are managed by SmartMEDIX management software, saving examination and waiting time for patients.
Promotion up to 30 million VND when doing IVF at Hong Ngoc IVF Center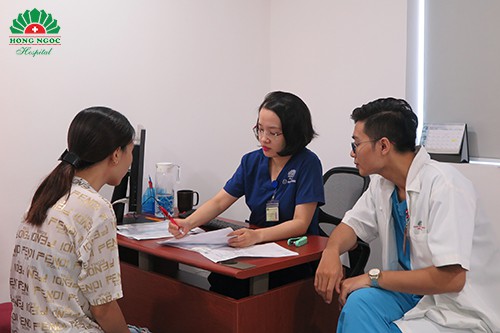 For young couples, the proactive approach to knowledge about reproductive health information: pathologies, treatment options, IUI, IVF, etc. is still a problem since the treatment is usually long, patients could be shy and especially the high cost of treatment. This could prevent patients to have examination and infertility treatment in the "gold" time.
In order to motivate and create more chances for unfortunate couples, Hong Ngoc IVF Center has had various customer policies to support infertile couples who are having financial problems, especially young ones.
Therefore, married couples who were born after September 1st 1984 will enjoy the promotion policy, for each case patients can save up to 30 million VND for IVF treatments.
For further information, please contact:
Hong Ngoc IVF Center – Hong Ngoc General Hospital
Add: 14th floor, 55 Yen Ninh Str, Ba Dinh Dist, Hanoi
Hotline: 0915.960.139 – 0915.330.016
Tel: +(84-24) 3927 5568 ext 6820/6825
Email: arthongngoc@hongngochospital.vn