On August 24th, Hong Ngoc IVF Center successfully hosted a consultation event on infertility treatment process and offered participants 100% free examination, ultrasound and semen analysis. The event attracted the attention of numerous couples with troubles having a baby.
People are still vague about infertility treatment
The consultation event on Infertility treatment process was held on August 24th with the attendance of Dr. Pham Thi Thuy Duong – key clinician of Hong Ngoc IVF Center, fertility specialist trained in the Czech Republic.
On top of that, the conference also received much interest from a great deal of couples having concerns and difficulties in their journey of "finding baby".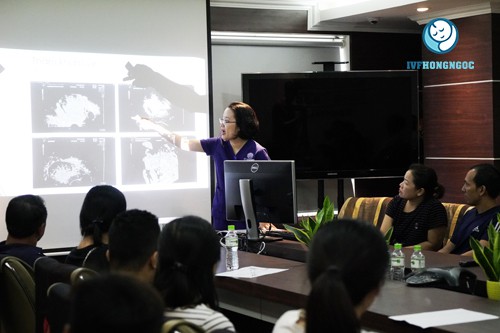 At the beginning of the event, Dr. Thuy Duong provided the participants with a more complete and detailed view of the current infertility treatment process applied at Hong Ngoc IVF Center.
In Dr. Thuy Duong's perspective, there are plenty of people who are still vague and confused about infertility facts, as well as the treatment plan and process.
The role of 3D, Doppler ultrasounds in infertility treatment
Next, Dr. Thuy Duong shared various important information which helped customers understand more about the role of 3D, Doppler ultrasounds in the assessment of reproductive organs.
In her point of view, these are the 2 highly praised ultrasound methods in precision and effectiveness of infertility examination and treatment.
Another essential piece of information added by Dr. Thuy Duong at the conference was the ultrasound method using ultrasound gel for of ovarian evaluation.
This is an alternative method of uterine tomography. This method has many advantages. It causes less pain and does not affect the ovaries by X-rays or damage the mucosa by iodine, animation…
At the seminar, all the guests' questions about infertility treatment were answered by Dr. Thuy Duong in great details.
The following part which took the majority of this event time was free examination – ultrasound – semen analysis for the participants.
All of the participants were directly examined and consulted by Dr. Thuy Duong and the dedicated team of specialists at Hong Ngoc IVF Center.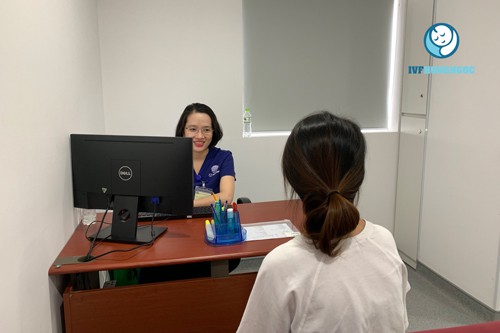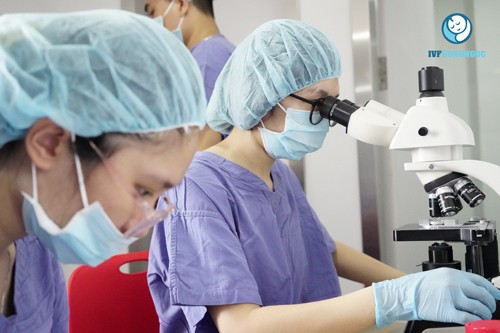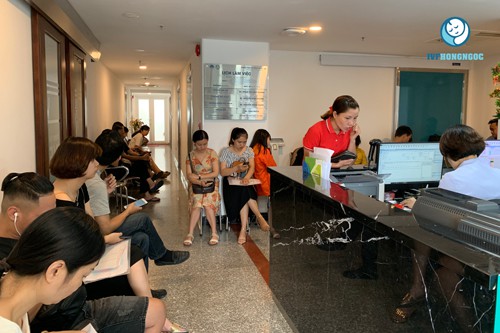 Hong Ngoc IVF Center – your companion
A large number of participants consider such seminars extremely helpful, especially for those who are having trouble "finding" a baby.
They hope that Hong Ngoc IVF Center will continue to host more useful seminars in the future.
Infertility is currently on the rise and becoming an alarming problem in Vietnam.
With the motto of "offering services by European standards of quality at affordable prices for Vietnamese", Hong Ngoc IVF Center has received the trust of innumerable infertile couples.
According to the evaluation of leading experts, Hong Ngoc IVF Center is now one of the top reproductive centers in the North of Vietnam, possessing outstanding advantages with high rate of successful assisted births.
So far, hundreds of babies have been born successfully at IVF Hong Ngoc thanks to the miraculous medical advances of assisted reproductive technologies.
For more information, please contact:
Hong Ngoc IVF Center – Hong Ngoc General Hospital
Mọi chi tiết xin vui lòng liên hệ:
Trung tâm IVF Hồng Ngọc – Bệnh viện Đa khoa Hồng Ngọc
Cơ sở 1:
Add : Tầng 14, số 55 Yên Ninh, Ba Đình, Hà Nội
Hotline: 0915.960.139 – 0915.330.016
Fanpage: https://www.facebook.com/ivfhongngoc2014
Cơ sở 2:
Add: Tầng 12, số 8 Châu Văn Liêm, Nam Từ Liêm, Hà Nội
Hotline: 0911.053.794 – 0886.042.084