In 4 days from 23 June to 26 June 2019, the 35th Annual Meeting of European Society of Human Reproduction and Embryology has discussed numerous important topics related to infertility treatment and updated the latest studies and advanced techniques in the field of assisted reproduction. These discussed techniques and methods are also the ones which are applied at Hong Ngoc IVF Center. We are proud of our efforts to bring the most effective treatment plan and methods at the present to our patients.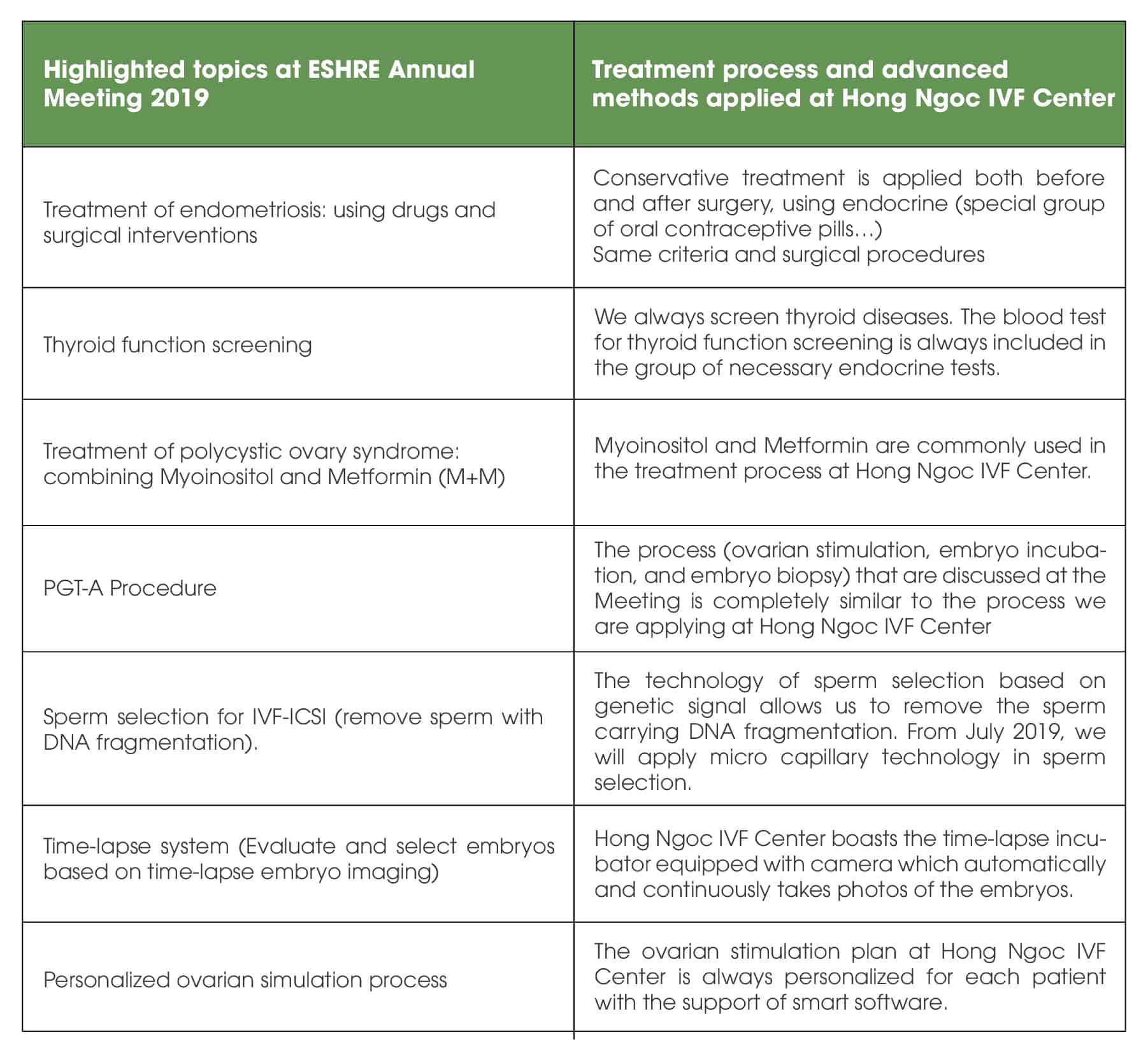 Treatment of pre-existing gynecologic and endocrine conditions in assisted reproductive technology
The gynecologic and endocrine conditions, including polycystic ovary syndrome, endometriosis and thyroid diseases, greatly impact to female fertility. Treatment strategies of these conditions is also highlighted topics which are most discussed at the ESHRE Annual Meeting 2019.
In the first section, Prof. Johnny Awwad and other leading experts presented key points in treatment of endometriosis. At Hong Ngoc IVF Center, conservative treatment is applied both before and after surgery, using endocrine (special group of oral contraceptive pills…). The treatment is indicated based on the condition of each patient to gain the best results. At the same time, we have the same surgical criteria and procedures that are discussed by the world's leading specialists at the meeting.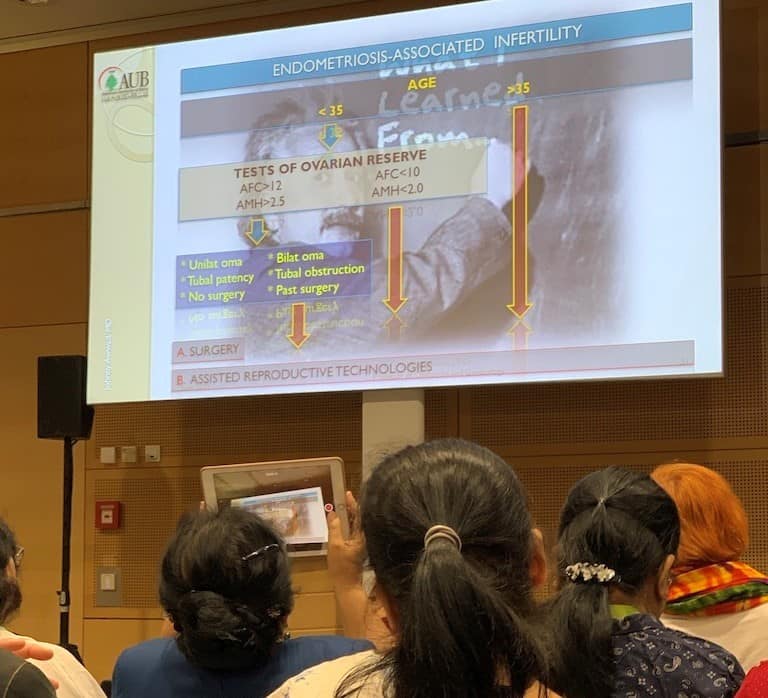 For polycystic ovary syndrome, combining Myoinositol and Metformin (M+M) is considered the right way for IVF cycle. The medicine should be used at least 1 months before IVF and stopped at around the 10th of pregnancy. Myoinositol and Metformin are commonly used in the treatment process at Hong Ngoc IVF Center.
Prof. Lubna Pal (Yale University) considers that pre-IVF thyroid function screening highly important. The treatment should start when subclinical hypothyroidism is observed (TSH > 2.5mIU/L). At Hong Ngoc IVF Center, we always ask patients to take thyroid function screening. The blood test for this purpose is always included in the group of necessary endocrine tests.
Personalized IVF treatment plan with the most advanced techniques
Another hot topic group at ESHRE Annual Meeting 2019 is about the procedures of ovarian stimulation, sperm selection, pre-implantation genetic screening and time-lapse embryo monitoring. The process of IVF cycle (ovarian stimulation, embryo incubation, and embryo biopsy) that are discussed at the Meeting is completely similar to the process we are applying at Hong Ngoc IVF Center.
The ovarian stimulation plan at Hong Ngoc IVF Center is always personalized for each patient, with the support of smart software. This personalized treatment ensures the highest performance and save costs for patients. At the same time, the technology of sperm selection based on genetic signal allows us to remove the sperm carrying DNA fragmentation. From July 2019, we will apply micro capillary technology in sperm selection.
Time-lapse embryo imaging technology is considered by the meeting's delegates as the best one in embryo monitoring. Hong Ngoc IVF Center boasts the time-lapse incubator equipped with camera which automatically and continuously takes photos of the embryos. This is the most modern system with most advantages, allowing embryologists to easily record information of the embryos and spot abnormities during the division process which cannot be detected by naked eyes.
The topics and discussions at the ESHRE Annual Meeting 2019 have proved that Hong Ngoc IVF Center is a leading center in terms of applying the world's latest and most advanced methods and techniques in infertility treatment. We will continuously update new medical development and achievements which have not been popular in Vietnam so that Vietnamese infertile couples could have more chances of success in their journey of growing family.
For consultation and further information, please contact:
Hong Ngoc IVF Center – Hong Ngoc General Hospital
Add 1: 55 Yen Ninh, Ba Dinh, Hanoi
Hotline: (+84) 915960.139 – (+84) 915.330.016
Fanpage: https://www.facebook.com/ivfhongngoc2014
Add 2: 8 Chau Van Liem, Nam Tu Lien, Hanoi
Hotline: (+84) 886.042.084 – (+84) 911.053.794
Fanpage: https://www.facebook.com/ivfhongngoc2022
Mail: arthongngoc@hongngochospital.vn