Infertility consulting events  of Hong Ngoc IVF Center always draw attention from numerous customers. In order to answer all of their questions, on 21 September 2019, we are going to hold another Consultation Conference on Optimizing the expense of infertility treatment for young couples, helping them minimize financial burden on their journey of looking for a baby. At the event, customers will also have a chance to experience 100% free examination, ultrasound and semen analysis. 
Conference on Optimizing the expense of infertility treatment
Following the success of the previous conferences on infertility treatment, Hong Ngoc IVF Center is going to host another free consultation of optimizing the infertility treatment's cost, sharing financial burden with young couples on their "looking for a baby" journey.
This is a great opportunity for all infertile couples, especially young ones. We're here to provide more options and solutions for them to resolve current problems on their way to build a full home with children's laughter.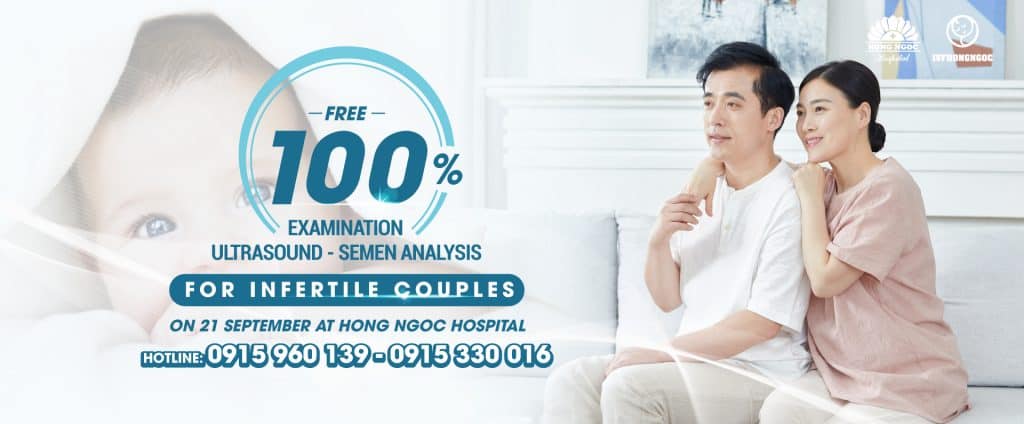 This time, the conference focusing on Optimizing the cost of infertility treatment for young patients is presented by Dr. Nguyen Binh Duong of Hong Ngoc IVF Center. Expenses have always been a big concern for all infertile couples on the journey "looking for a baby", especially ones with financial difficulties. Understanding the problems, Hong Ngoc IVF Center always focuses on optimizing the cost for patients. Here is how we do it:
– Individualize treatment regimens for patients to save costs and increase success rates for IVF cases.
– Only indicate necessary examinations to minimize costs for patients.
– IVF will not be performed if hormonal treatment, IUI and other treatments still ensure success rates.
– Implement classical IVF along with ICSI to save costs for young patients.
– Apply IVF with natural menstrual cycles without using drugs, which provides the same success rate as the drug regimen for mucosal preparation, with high efficiency.
– Incubated embryos to the 5th day to increase the ability of screening and selecting embryos, helping to shorten treatment and expecting time for patients, thereby saving costs.
– Transfer a small number of embryos to reduce obstetric complications, increasing the likelihood of a healthy baby at no additional cost.
– Clearly provide information for convenient reservation, appointment, and following medical history which are managed by SmartMEDIX management software, saving examination and waiting time for patients.
Thanks to these, when having infertility treatment at Hong Ngoc IVF Center, customers won't have to worry about expenses and will be more ensured of an upcoming baby.
In particular, coming to the consultation, infertile couples can freely ask questions to get more information from our specialists. Any concerns, questions about IVF process, prices, and incentive programs will be answered by the center's doctors in most specific details.
Opportunity of entirely free examination, ultrasound and semen analysis
Aiming to bring complete happiness named "Miracle created by Science"  to more infertile couples, IVF Hong Ngoc decided to organize seminars, consultation on methods,  procedures, and related problems of infertility treatments for clients.
Not only offered the chance for consultation on saving costs for infertility treatment, customers will also experience free examination – ultrasound – semen analysis when attending the conference on 21 September.
This will be a great opportunity for customers to have leading specialists assess their fertility as well as promptly detect abnormalities in the reproductive organs so as to have proper and timely treating methods.
Contact us today to register for consultation on optimizing the cost of infertility treatment, along with the opportunity to have examination, ultrasound and semen analysis for FREE.
CONFERENCE INFORMATION
– Location: Hong Ngoc IVF Center – 14th floor – Hong Ngoc General Hospital, 55 Yen Ninh Str, Ba Dinh, Hanoi
– Time: 08:30 – 17:00 Saturday 21st of September, 2019
– Schedule:
8:30am – 9:30am: Welcome guests, collecting patients' information for consultation
9:30am – 10:00am: Presentation of how to optimize the costs of infertility treatment delivered by Dr. Nguyen Binh Duong
10:00am – 5:00pm: Free examination, ultrasound and semen analysis
Hong Ngoc IVF Center – Hong Ngoc General Hospital
Add: 14th floor, 55 Yen Ninh Str, Ba Dinh, Hanoi
Hotline: 0915.960.139 – 0915.330.016
Tel: +(84-24) 3927 5568 ext 6820/6825
Email: arthongngoc@hongngochospital.vn