At 3pm on 20 July 2019, more than 40 customers have joined the free consultation event introducing new fertility techniques at Hong Ngoc General Hospital. During the event, numerous questions related to assisted reproduction techniques were clearly answered by Hong Ngoc IVF Center's specialists. At the end of the event, each couple received meaningful and valuable gifts from the center.


The event was attended by Dr. Ivan Reich – Director of Hong Ngoc IVF Center – who has more than 40 years of experience working in the field of assisted reproduction, Dr. Pham Thi Thuy Duong – Key Clinician of Hong Ngoc IVF Center – who has been intensively trained in the Czech Republic, and Embryologist Hoang Thi Thuan – Deputy Head of Hong Ngoc IVF Center's Laboratory.
Opening the event, Dr. Ivan Reich delivered his presentation about the latest assisted reproductive techniques updated from the 35th ESHRE Annual Meeting which took place from 23 June to 26 June 2019 in Austria. Currently, Hong Ngoc IVF Center has applied a variety of advanced techniques mentioned at the Meeting such as conservative treatment applied both before and after surgery using endocrine (special group of oral contraceptive pills…) for patients with gynecologic and endocrine conditions; personalized ovarian stimulation plan with the support of smart software; time-lapse embryo imaging technology allowing embryologists to easily record information of the embryos and spot abnormities during the division process which cannot be detected by naked eyes; and more.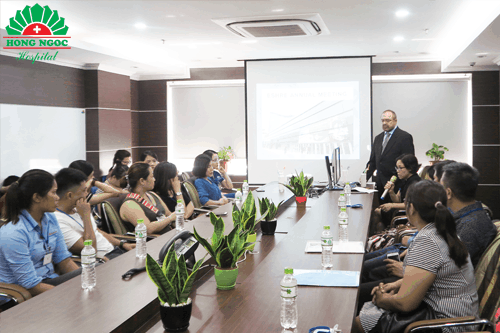 In addition, Dr. Ivan Reich emphasized that the center is focusing on natural cycle for IVF treatment, creating one embryo for one egg and paying more attention to the embryo quality rather than the number of embryos. Only one to two embryos should be transferred each time to ensure the effectiveness of treatment. Especially, he shared that Hong Ngoc IVF Center had been fully equipped with modern devices and technology for freezing of oocytes, spermatozoa, and embryos, meeting the demands of Vietnamese couples.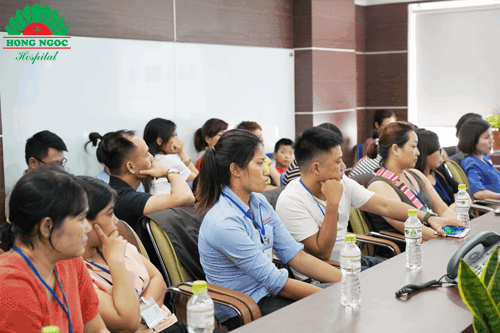 Dr. Ivan Reich also presented about the world's most advanced sperm selection techniques which have been applied at Hong Ngoc IVF Center. These techniques allow embryologists to select good sperm with normal genetic materials, ensuring the health of babies. There are three techniques as follow:
Physiological ICSI technique (PICSI): widely applied at IVF centers
Sperm selection using Magnetic-Activated Cell Sorting (MACS) system: IVF Hong Ngoc is the first center in Vietnam to successfully apply this technique.
Microfluidic Sperm Sorting: using microfluidic and complex membrane technique to select the best spermatozoa. Hong Ngoc IVF Center boasts enough equipment and has sent specialists to Prague, the Czech Republic, for training before introducing this technique at the center in August 2019.
After Dr. Reich sharing the useful information is the time for counselling section. The participants put numerous questions such as how many times they should take ovarian stimulation and egg retrieval, whether these procedures' effect to general health, how the cleanness of the lab affects to embryo quality, and the advantages of transferring 1-2 embryos for each time, so on.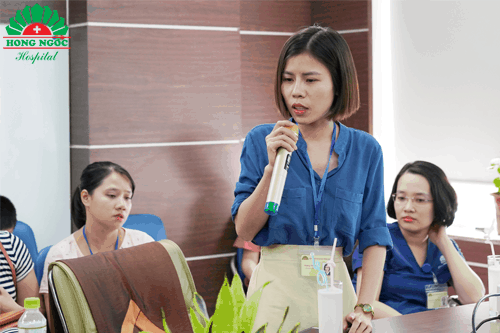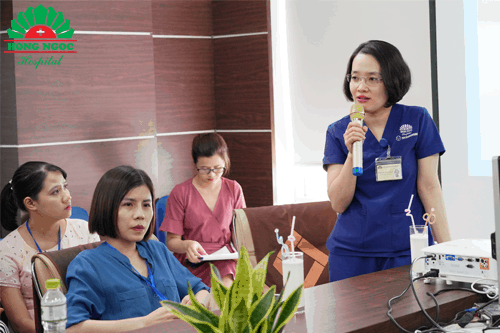 Ms. Minh N. (29 years old), one of the guests, shared that "The information provided by Dr. Ivan helps me to understand more about the complexness of IVF techniques and know that Hong Ngoc IVF Center is different from other centers that I have searched for. We have been seeking for my baby for 5 years without any good results. Maybe, I have found a new hope today. I am also interested in the freezing of embryos. If we have a chance, I will do this."
At the end of the meeting, each participant received meaningful gifts, including
– Voucher Discount 10,000,000VND/ IVF cycle
– Free 4D Ultrasound – Sono fertility scan (1,200,000VND) for female patient if her partner takes semen analysis (750,000VND) and Antisperm Antibody Test (650,000VND).
The free consultation event of Hong Ngoc IVF Center on 20 July is a great chance for couples who are seeking for baby. We do hope that it would give them more hope in their journey of finding the happiness of growing family.
For consultation and further information, please contact:
Hong Ngoc IVF Center – Hong Ngoc General Hospital
Hotline: (+84) 915960.139 – (+84) 915.330.016
Tel: (+84-24) 3927 5568 ext 6820/6825
Add: 55 Yen Ninh, Ba Dinh, Hanoi
Mail: arthongngoc@hongngochospital.vn